Maxisoft Body Massage Oil (100 ml)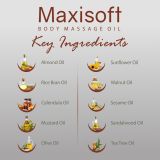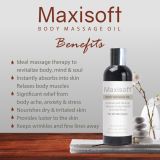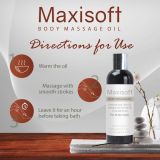 Product Description
Maxisoft Body Massage Oil is a luxurious blend of more than 10 essential oils. It is an Ideal botanical blend crafted to promote hydration, rejuvenation & relaxation of body. It quickly absorbs into the skin & reduces body ache, inflammation & uneven skin tone.
Maxisoft Body Massage Oil is rich in flavonoids and antioxidants that help to protect skin from damage caused due to pollution and loss of moisture. It helps to diminish patchy skin and acne scars and nourishes dry, chapped and irritated skin.
Maxisoft Body Massage Oil, helps supercharge your body with unmatched luminosity. This rich yet lightweight blend helps relieve stress & fatigue and relax the body. It provides soothing relief from muscle stiffness, soreness & more.
Regular use lends luminosity to the skin while leaving it delicately fragranced.
Benefits
Ideal massage therapy to revitalize body, mind & soul

Instantly absorbs into skin

Relaxes body muscles

Significant relief from body ache, anxiety & stress

Nourishes dry, chapped and irritated skin

Provides luster to the skin & removes dryness

Keeps wrinkles and fine lines away
Salient Features
Mineral oil free

Alcohol free

Preservative free

For all skin types
Directions for Use
Warm the oil & massage all over the body with smooth strokes using fingers & palm

Leave it preferably for an hour before a bath for maximum absorption of nutrients.