Maxisoft Anti Acne & Anti Pimple Cream (25 gm)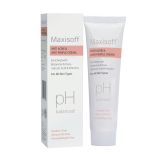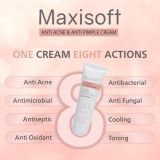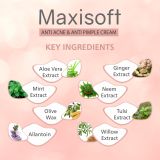 Maxisoft Anti Acne & Anti Pimple Cream (25 gm)
Maxisoft Anti Acne & Anti Pimple Cream possess herbal actives with excellent anti-microbial, anti-acne, anti-septic, anti-bacterial, anti-oxidant, anti-fungal, cooling and astringent properties that will not only reduce excessive sebaceous activities but also relieve skin blemishes
Product Description
Acne is the eighth most common skin disease worldwide. Acne comes in all shapes and sizes and is generally caused when hair follicles become clogged with excess sebum, an oil produced naturally by our skin to keep itself moisturized. And if you have acne-prone skin, your acne won't let you rest. This is were Acnedac Cream comes to your rescue.
Maxisoft Anti Acne & Anti Pimple Cream is an innovative blend of actives that helps to effectively control and cure the problems of acne and pimple. This hectic lifestyle and external environmental factors like dirt, dust and pollution, can lead to skin stress that can appear in the form of acnes, pimples, skin burnouts and blemishes.
 Our unique ingredient combination works synergistically to reduce redness around the site of irritation, inhibits the formation of biofilm by the problem causing bacteria, decreases sebum secretion, while also acting as an antioxidant to rejuvenate the skin. It guarantees for the prevention from the reoccurrence of these stubborn acnes and pimples. It also helps fight blackheads and whiteheads.
Maxisoft Anti Acne & Anti Pimple Cream possess herbal actives with excellent anti-microbial, anti-acne, anti-septic, anti-bacterial, anti-oxidant, anti-fungal, cooling and astringent properties that will not only reduce excessive sebaceous activities but also relieveskin blemishes. 
Benefits
Maxisoft Anti-acne & Anti-pimple Bar Cream can very effectively control pimple & acne

It helps to prevent skin eruptions also soothens and hydrates the skin.

Fights acne causing bacteria & promotes skin healing and prevents reoccurrence of pimples

Heals acne & reduces acne scars without damaging or drying the skin
Salient Features
Paraben Free

Formaldehyde Free

Mineral Oil Free

For All Skin Types
Directions for Use
Cleanse face with water.

Gently pat dry with soft towel.

Take a small quantity of Maxisoft Anti Acne & Anti Pimple Cream  on your fingertips and apply on your pimple-pore skin in circular motion till it gets absorbed completely. 

For better results, use twice daily.

Avoid contact with eyes, mouth and mucous membranes. In case of contact rinse it with clean water.