Maxisoft Hempseed Oil Moisturizing Bathing Bar (75 gm)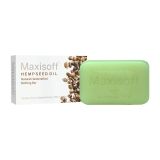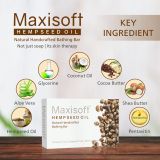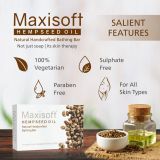 Product Description
As we stroll down the aisles of a supermarket, we find a plethora of soap bars available in attractive packaging's. Unfortunately such soap bars contain various chemicals that are not skin friendly at all.
Our skin is the largest organ of our body & has the capacity to absorb the most quantities of toxins. The harmful chemicals present in these chemical detergents tend to harm us more than doing good. It can cause dryness, itchiness, age spots, fine lines, wrinkles & many other serious issues.
On the other hand, superior ingredients are used in natural soap making process. Natural handmade soaps use all natural ingredients with no harsh chemicals. Typically handmade soaps are made of pure essential oils, vegetable oils and butters that are rich in antioxidants, vitamins and nutrients that are essential to healthy skin.
Natural handmade soaps also offer aromatherapy therapeutic benefits. Handmade soaps use pure essential oils to create their scents. The benefits of aromatherapy can help with everything from stress relief to boosting your immune system.
Devoid of artificial color's, synthetic lathering agents, natural soaps deliver a rich dose of antioxidants in order to ensure the skin is as capable and well-protected as it can possibly be. Thus enhancing our body's natural defense system.
Maxisoft Hempseed Oil Moisturizing Bathing Bar is loaded with the goodness of skincare specialist, Pentavitin. Known as Saccharide Isomerate, it is a 100% naturally derived plant extract.
This carbohydrate complex performs wonders for your skin with a unique binding property to lock in moisture instantly. Regardless of your age and skin texture, Pentavitin is suitable for all skin types.
Pentavitin is the key to fresh, forever-young radiance. This potent ingredient acts as a magnet and penetrates deep into the skin. With its intensive hydration & moisture lock properties, it delivers 72 hours of non-stop hydration. It extends its action deep within the layers of the skin & does not get easily washed away.
With its regenerative properties, Pentavitin is seen as a potent antidote for mature skin. Day after day, the skin's youthfulness is restored, age spots, wrinkles & fine lines are visibly reduced. It calms irritation, inflammation, and rebuilds sensitive or damaged skin for total comfort.
Maxisoft Hempseed Oil Moisturizing Bathing Bar is an ultra-luxurious bathing bar enriched with the goodness of pure Himalayan Hempseed Oil that nourishes your skin on a cellular level and makes it soft and glowing.
Hempseed Oil is one of the richest source of polyunsaturated fats, Vitamins E, A, C, B1, B2, B3 & more and hence is an excellent moisturizer for your skin.
Maxisoft Hempseed Oil Moisturizing Bathing Bar heals skin and also retards the process of skin aging. This skin brightening formula is enriched with the goodness of Shea Butter which miraculously provide your skin with much needed lustra and shine.
It leaves your skin feeling cleansed, moisturized & silky soft. This rich & sudsy bathing bar has amazing anti-aging qualities that will help nourish your skin deeply and restore its radiance and youth. Regular use will rejuvenate your skin making it feel well nourished & hydrated after every use.
Benefits
Evens out skin tone and brightens complexion

Treats sunburns, skin rashes and infections

Removes dryness, roughness of the skin

Removes excess sebum and oil

Deep cleanses skin, removes dirt, sweat and impurities

Treats blemishes, dark spots, acne scars, pigmentation, and darkened areas

Hydrates the skin & keeps it nourished without leaving dry patches

Promotes skin a healthy and natural glow

Keeps the skin clean & supple.
Salient Features
Paraben Free

Sulphate Free

100% Vegetarian
Directions for Use
Gently lather the soap on damp face and body for at least 3 minutes

Rinse thoroughly

Use twice daily to keep skin clear, smooth and protected