Maxisoft Hand Sanitizer Gel Green Apple (500 ml)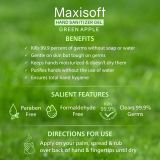 Product Description
If there's one thing we appreciate now more than ever is a good old fashioned hand washing. While we'd love to keep hands germ-free 24/7, sinks aren't exactly portable – the next best thing is a quality hand sanitizer.
The Center for Disease Control and Prevention (CDC) advises that if soap and water are not available, use an alcohol-based hand sanitizer that contains at least 60% alcohol. That means while out and about, an alcohol-based sanitizer is your best alternative for fending off a variety of harmful microbes.
Say no to harmful germs & viruses with Maxisoft Hand Sanitizer. It comes with a fruity scent that will refresh your mood instantly. It makes hand hygiene portable. You can carry it in your car or bag to keep harmful germs & viruses at bay.
Maxisoft Hand Sanitizer is sure shot solution to kill harmful germs & bacteria's. It's just the perfect protection on-the-go without soap & water. Formulated with skin conditioning emollients, Maxisoft Hand Sanitizer is designed to be used multiple times without drying your hands.
It comes up with standardized gentle formula that does not dry out or irritate skin so your hands feel soft even after several use.  It won't leave a sticky or tacky residue, while effectively killing 99.9% germs. It prevents infections, and ensures total hand hygiene. It's an ideal hygiene therapy for a more focused mindset on the work.
Benefits
Soapless Wash : Cleans hand and kills 99.9 percent of germs without soap or water.
Moisturizes: Keeps hands moisturized & Dryness Free.
Clean & Hygiene : Purifies hands without the use of water and ensures total hand hygiene.
Pleasant Fragrance : gives hand a pleasant soft breezy aroma which lingers around for hours.
Toxin Free : Paraben Free and Formaldehyde Free formula for safe, cleansing of your hands.
Salient Features
Paraben Free

Formaldehyde Free

Clears 99.9% Germs
Directions for Use
Apply on your palm, spread & rub over back of hand & fingertips until dry.