Maxisoft Coffee & Cocoa Butter Bathing Bar (75 gm)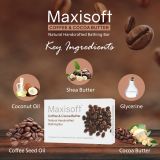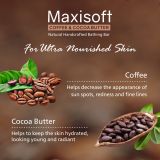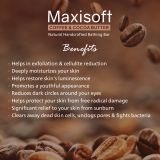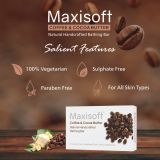 Product Description
As we stroll down the aisles of a supermarket, we find a plethora of soap bars available in attractive packaging. Unfortunately such soap bars contain various chemicals that are not skin friendly at all. Our skin is the largest organ of our body & has the capacity to absorb the most quantities of toxins.
The harmful chemicals present in these chemical detergents tend to harm us more than doing good. It can cause dryness, itchiness, age spots, fine lines, wrinkles & many other serious issues.                                              
On the other hand, superior ingredients are used in natural soap making process. Natural handmade soaps use all natural ingredients with no harsh chemicals. Typically handmade soaps are made of pure essential oils, vegetable oils and butters that are rich in antioxidants, vitamins and nutrients that are essential to healthy skin.
Natural handmade soaps also offer aromatherapy therapeutic benefits. Handmade soaps use pure essential oils to create their scents. The benefits of aromatherapy can help with everything from stress relief to boosting your immune system.
Devoid of artificial colors, synthetic lathering agents, natural soaps deliver a rich dose of antioxidants in order to ensure the skin is as capable and well-protected as it can possibly be. Thus enhancing our body's natural defense system.
Perfect for itchy and sensitive skin, Maxisoft Calamine Bathing Bar uses Calamine Powder, Cocoa Butter, Shea Butter, Coconut Oil & Glycerin as key ingredients thus making it extremely calming on the skin. This soap is a must for those with problem skin. If you have a skin condition that causes irritation, this soap acts as a fantastic natural treatment with magical properties.
Maxisoft Coffee & Cocoa Butter Bathing Bar is an ultra-moisturizing bathing bar packed with pure Coffee Seed Oil and rich Cocoa Butter. Coffee Seed Oil is readily absorbed by the skin and has an extremely light and silky feel.
Coffee Seed Oil is rich in antioxidants that helps protect your skin from free radical damage & aging. Other than that, it is known for its anti-inflammatory & skin softening properties. Cocoa Butter, on the other hand, leaves the skin softer & smoother with a lingering aroma.
Ground coffee present in Maxisoft Coffee & Cocoa Butter Bathing Bar makes it an excellent natural exfoliator thus making it a great scrub bathing bar too. The natural oil in coffee contains enzymes that detoxify, cleanse and help unclog pores, making it ideal for treating acne and other skin problems. 
Benefits
Helps in exfoliation & cellulite reduction

Deeply moisturizes your skin

Clears away dead skin cells, unclogs pores and fights bacteria

Helps restore skin's luminescence

Promotes a youthful appearance

Reduces dark circles around your eyes

Helps protect your skin from free radical damage

Significant relief to your skin from sunburn
Salient Features
Paraben Free

Sulphate Free

100% Vegetarian
Directions for Use
Gently lather the soap on damp face and body for at least 3 minutes before rinsing

Use twice daily to keep skin clear, smooth and protected.