Maxisoft Baby Powder (200 gm)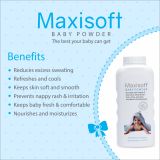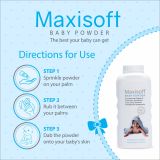 Product Description
Maxisoft Baby Powder is made with a special blend of soft & coarse talc and natural Corn Starch to help soothe and moisturize baby's skin without clogging the pores.
It contains essential extracts of Olive & Avocado Oil that protects the skin from dryness and itchiness. Shea Butter gently absorbs into the baby's skin thereby letting the skin retain its moisture balance.
Benefits
Reduces babies' excess sweating

Refreshes and cools babies' skin

Keeps the babies' skin soft and smooth

Prevents nappy rash, friction and irritation

Nourishes and moisturizes the skin from within

Keeps your baby feeling fresh and comfortable
Salient Features
Paraben Free

SLES & SLS Free

Dye Free

Alcohol Free
Directions for Use
Sprinkle Maxisoft Baby Powder on your palm or a powder puff

Dab the powder onto your baby's skin, being careful to avoid applying on baby's face.